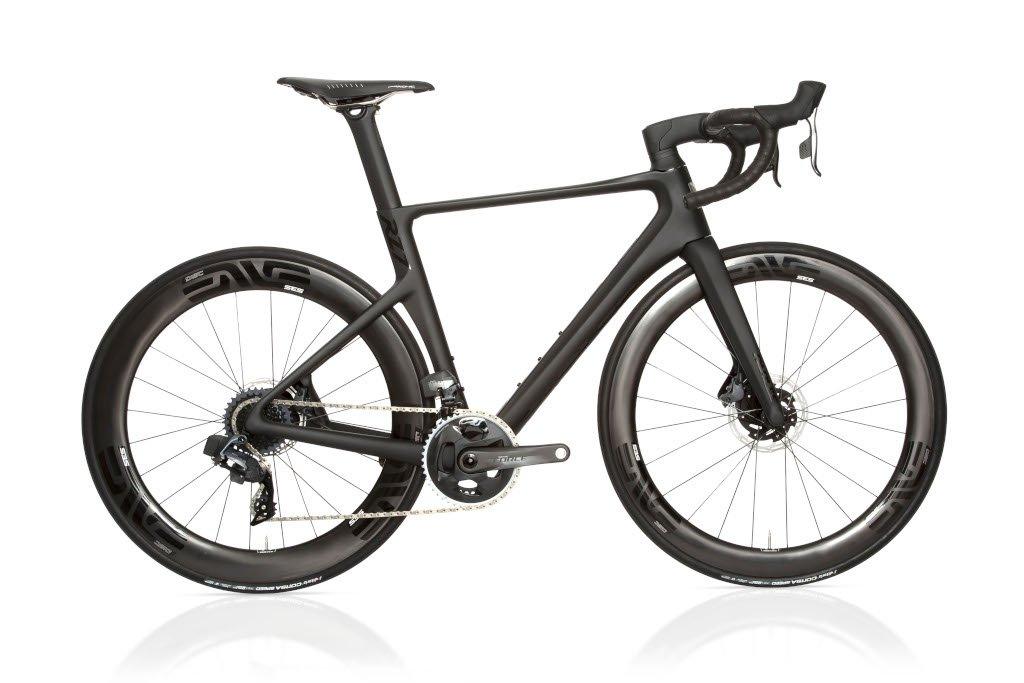 Parlee – RZ7 LE Frame
The next generation of performance road bicycle is here. The all-new Parlee RZ7. Created by cycling's carbon-fibre pioneers, the RZ7's aerodynamic shape cheats the wind and rewards every pedal stroke with forwarding motion. But, speed is nothing without ride quality. The ultimate blend of stiffness, efficiency, weight and performance also features ride quality unrivalled by any other aero machine. That means more PRs with less fatigue. Nothing feels better than going faster. And, faster feels better on a Parlee.
FORWARD MOTION
When Parlee set out to develop the ultimate high-performance road bike they combined twenty years of experience in design, engineering and innovation, and looked to the latest in emerging technology and advancements that the industry has to offer. The result is RZ7. Starting with a clean sheet design and incorporated the latest aerodynamic and technical developments.
FOCUS ON PERFORMANCE

As we enter a new age of performance road cycling driven by always-on, real-time data capture and analytics (e.g. Strava and near-ubiquitous power meter usage);
chasing speed is no longer just for professionals, so its no surprise road cyclists are looking to go faster and further.
The Parlee RZ7 was designed for any rider who focuses on performance and whose goal is to go faster. The RZ7 delivers the speed and comfort to go both faster and further than traditional road bikes.
WHAT IS RECURVE™? Recurve™ is a proprietary airfoil design, derived from the low-speed NACA shapes Bob Parlee used when developing America's Cup racing sailboats.
Advantages:
Maintains, and at some yaw angles improves drag reduction of established NACA airfoils.
Balances lateral and vertical stiffness of tube sections; improves ride quality without sacrificing aerodynamics.
SPEEDSHIELDS: Parlee was the first to bring disc brakes and integrated SpeedShields to triathlon bikes with their Eurobike Gold Award-winning TTiR. The forward-thinking continues with the SpeedShield technology now available on the RZ7. SpeedShields smooth the flow of air around the irregular geometry of a disc brake calliper, saving you the most watts possible.
LIGHTWEIGHT: At 870 grams frame weight for a size Medium, the RZ7 is the lightest performance aero bike on the market.
EFFICIENCY = IMPROVED POWER TRANSFER: The RZ7 bottom bracket stiffness has been increased 7% over the Altum road bike. The virtue is in the proprietary Recurve™ aero tube sections, integrated in a way that not only allows it to achieve low aerodynamic drag but also maximizes torsional stiffness and promotes efficient power delivery.
TIRE CLEARANCE = VERSATILITY: The RZ7 features a tire clearance of up to 32mm, leaving ample room for the latest high-volume tires and wide wheelsets.
INTEGRATED THRU AXLES:
We reduced the length of the standard road rear thru-axles by a centimetre and 6mm off the front, saving weight, and allowing for a narrower frame and fork stance.
For added aerodynamics and a clean sleek look, the heads of our axles are hidden in a countersunk hole that is moulded into the frame and fork.
SYSTEM INTEGRATION: Fully hidden cabling, optimized for the latest electronic group-sets, allow for a fully integrated and clean, integrated look. But it's not all just for looks, internally routing the cabling makes for a more aerodynamic profile.
ONE SEAT-POST, TWO OFFSETS: The RZ7 seat-post utilizes a reversible rail clamp system, allowing for one post to provide either a 0mm and 25mm offset. A two-bolt adjustment system allows for precise adjustments and stability on the roughest terrain.
GEOMETRY: When developing the RZ7, Parlee analyzed their entire database of past stock geometries but also the geometries of our past custom frames as well. By doing this they ensured a fit for 99% of all customers.
Before purchasing a Parlee RZ7 frame, we recommend a Retul frame selection to determine the correct size for you. Contact us for more information or see what we've done with our custom bikes builds!