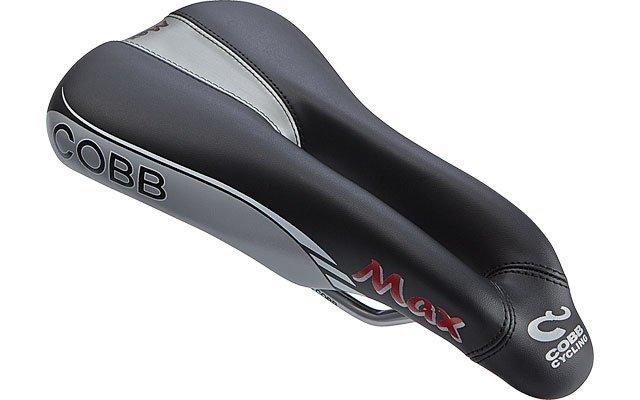 The Cobb Cycling Max saddle continues the line of rider friendly saddles developed with the thought of comfort and speed. The cobb cycling max features a deep cut out for relieving pressure through the soft tissues of the perineum and a foam density that allows riding on the nose as well as the rear of the saddle. The cobb max saddle was developed by John Cobb to maximise rider comfort for both Triathlon and road cycling. The lowered nose section combined with the deep cut relief trough on the cobb cycling max saddle provides pressure relief in the prostate/perinea area for men and the soft tissue area for women.
Tips from our Retul bike fitter:
This is one of the saddles that I would trial during a retul bike fit if the client has issues with soft tissue pressure and they also seem to have a wider pelvis structure. The unisex Cobb cycling max saddle seems to be particularly successful with female cyclists as both a road bike saddle and a time trial saddle.The large circular cut out provides significant pressure relief in the road bike position for women struggling to find a saddle that reduces pressure on their soft tissues. The channel through the nose region of the saddle provides the same pressure relief in the triathlon and time trial positions. The deep cut relief design allows the pelvis to rotate forward without crushing any soft tissue. The clever design of the Cobb Cycling Randee JOF makes it an option for both road cycling and triathlon / time trial.
The narrow rear section comes from the extremely popular and successful Cobb cycling V Flow series but is made with an all new higher density foam. Ongoing tests have shown that a harder saddle foam is more comfortable over longer distances, Cobb cycling developed a new foam that will save weight while adding comfort. The seat rail design of the new Max seat will also make it much easier for rider to achieve the proper seat setback for U.C.I. races.  With one of the longest rail lengths of any of the "triathlon" type saddles, the Max will easily be adjustable to find the ultimate position.  The Max weighs 270 grams and has a unique shape that is very rider friendly.