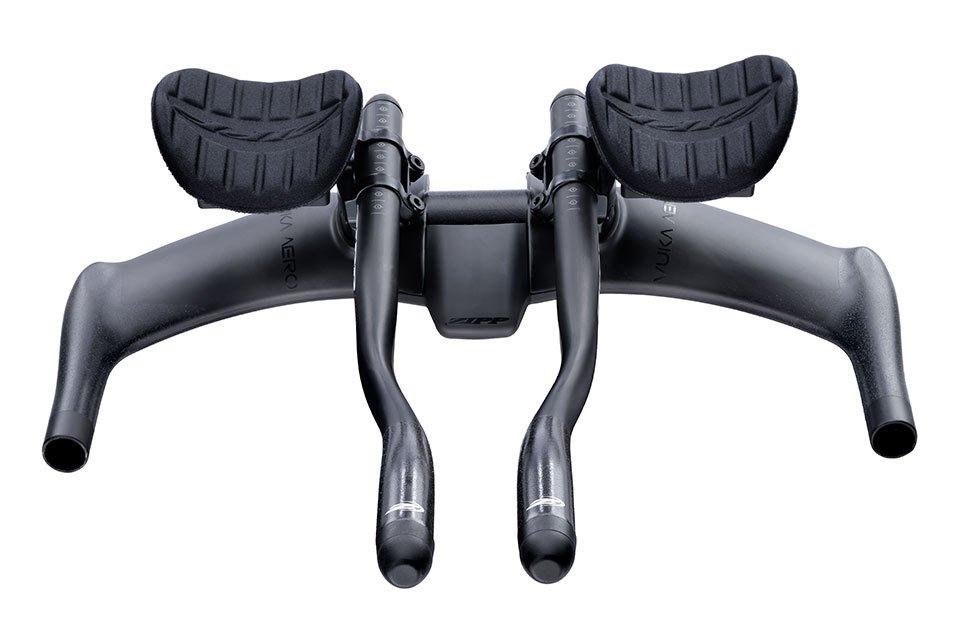 Zipp Vuka Aero Bar
Zipp®'s Vuka Aero™ goes further than ever in offering discerning triathletes and time trialists the adjustment range and clean design they demand. Vuka Aero is a lightweight, integrated aerobar that expands fit options with more than 6,000 unique positions. It can be used with any stem to help you find your ideal position on the bike. What's more, the SRAM® eTap® AXS™ BlipBox fits neatly within the centre cap, keeping it out of the wind and out of sight for a clean and efficient cockpit. The airfoil used in the Vuka Aero is based on the shape of the SL-70 Aero road bar. The result is an aero bar that's stiff and streamlined while maintaining the UCI's 3:1 aspect ratio requirement.
Vuka Aero allows you to build a triathlon or time trial bike with a clean and aerodynamic cockpit that, and this is the vital part, also is adjusted to your optimum biomechanical and aerodynamic position for the duration of your ride. To be efficient on the bike, you need to be able to hold that aero position on the bike for the duration of your event, whether that's a 40k TT or 112 mile tri segment.
This integrated carbon aerobar is lightweight with a broad adjustment range. The Vuka Aero's centre cap has an integrated mount for the SRAM eTap® AXS™ BlipBox (mount not compatible with original SRAM eTap), keeping it hidden and out of the wind. In designing the latest iteration of Vuka Aero, Zipp engineers were determined to achieve several distinct goals to increase adjustability and ease of adjustment while maintaining aero efficiency:
– Aerobar adjustment are measured in three planes, (1.) X for pad adjustment fore-aft of bar clamp center; (2.) Y for pad height measured from bar clamp centre; and (3.) Z for pad width measured centre-to-centre. These three dimensions can be set independently of each other, and with tighter steps in the adjustment range. That means more overall adjustability.
– Our engineers also added a larger vertical (Y) adjustment range to meet the needs of top time trialists who today want their base bars low while placing the armrests and extensions high..
– They also added the ability to angle the extensions as much as 10°, and the armrest pads can be angled independently of the extensions at 5°, 10°, or 15° . These angle features allow a 'high hands' position. This 'high hands' position is favoured by many riders to find the most aerodynamic position possible.
– For aero wireless integration, the SRAM eTap® AXS™ BlipBox fits neatly within the centre cap, keeping it out of the wind and out of sight for a clean and efficient cockpit.
– Bolts are positioned so they are easily accessed, many facing upward to make set up and adjustments easier.
Key features and Benefits
Removable centre cap, placed in front of the stem, adds 5 percent stiffness to the aero bar and integrates seamlessly to the base bar.
Integrated SRAM eTap AXS Blip box mount in the centre cap
Integrated Carbon Aerobar works with any 31.8 clamp stem with a clamp no wider than 50mm.
Rapid Routing™ cable exits are positioned for easy installation of brake cables
Vuka Aero ships with base bar, extension clamp, and armrest clamp, and risers to allow a pad height of 110mm.
ISO 4210 compliant.
Matte black finish
Extensions not included (purchase here)
Specs
| | |
| --- | --- |
| Material | Unidirectional Carbon |
| Clamp Width | 52mm |
| Weight | 846g with carbon extensions |
| Clamp Diameter | 31.8mm |
| Drop | 0mm |
| Width (centre-to-centre) | 40cm |
| Pad Fore/Aft | 46mm/-50m |
| Pad Width | 140-285mm |
| Pad height adjustable | 60-150mm (above 110mm with aftermarket riser kit). |
| Extension pitch | 0-10° |
| Armrest pad angle | 5, 10, or 15° |