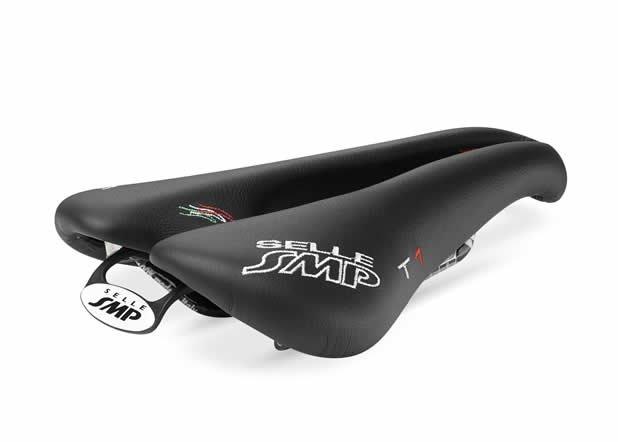 The Selle SMP T1 is part of the Selle SMP line of saddles designed specifically for time trials and triathlon, for maximum comfort in spite of the lack of padding in the shorts. The short and well placed padded nose enables maximum forward position of the athlete on the saddle.
The saddle features a pressure relief area distributed along the whole length of the saddle, from the rear to the tip. Whatever the triathletes position, it prevents the compression of the delicate perineal structure, avoiding vein and capillary vessel occlusion and the chance of nerve injury.
The support area is the result of in-depth ergonomic studies. It supports the cyclists weight precisely distributing it over the pelvic bones (ischial tuberosities) and buttocks. It protects the coccyx from bruises and shocks caused by the roughness of the terrain.
The exclusive and patented "eagle beak" shape of the nose also enables to safely park the bike on the bike  parking tube frame at the transition area. The length of the saddle seat tube offers the widest adjustment range available on the market, giving every person the possibility to identify the perfect position for them in terms of saddle advancement towards the handlebars, typical of triathlon. The structure of the characteristic rear Selle SMP logo, with it's peculiar reflecting properties, provide optimum support for the bike on the bike parking tube frame at the transition area, should the triathlete prefer to rear position rather than the front one.
Suits people with wide pelvis.
Weight: 375 g
Measurements: 257 x 164 mm
Padding: Foamed elastomer
Body: Nylon 12 reinforced with carbon fibre
Covering: Black leather or microfiber
Frame: AISI 304 stainless steel tube 7.1mm
Recommended: Time Trial, Triathlon
Recommended for sizes: L-XL-XXL