This Cervelo P Series was set up for long course triathlon and needed to feature an adjustable aero bar and cockpit set up for a client that had intermittent back issues. We needed to build something that could be easily adjusted to be more conservative if their back did not tolerate the long hours in the time trial position. The best way to do this was to use Profile Design Bars that allow up to 70mm of aero bar risers. This adjustability combined with some steerer tube remaining at the top of the stem meant that we could accommodate a higher aerobar position if needed. It needed to be fast, have a power meter and electronic gearing. This bike features quality across the entire bike with a SRAM AXS Force TT groupset, Zipp wheels and a Profile Design Aerobar setup.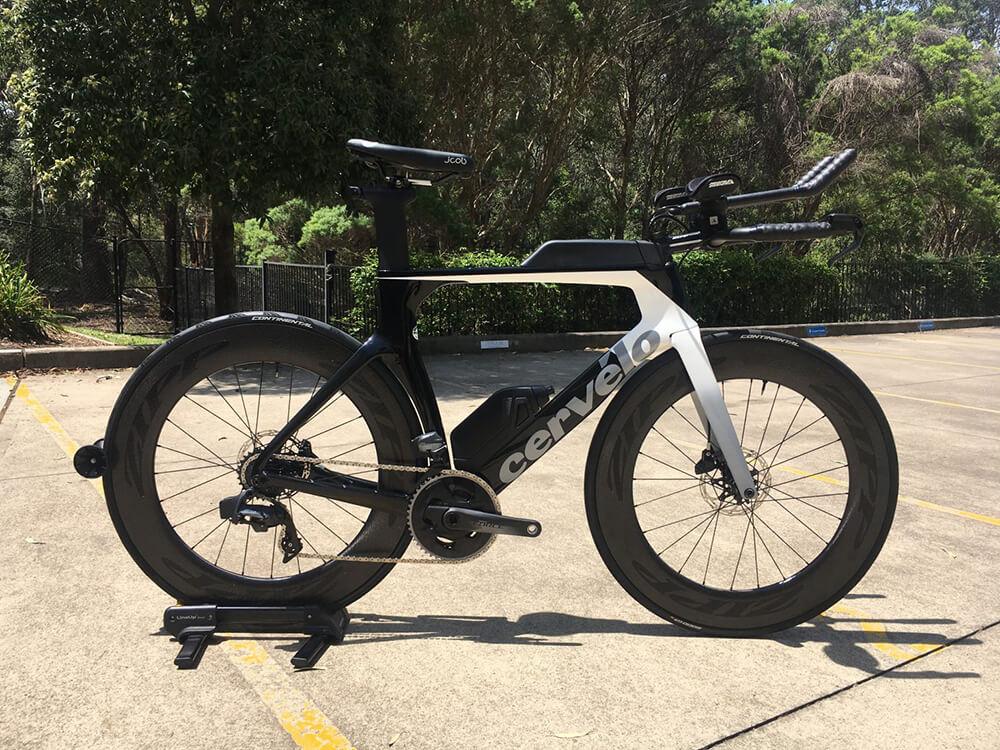 The Cervelo P Series was equipped with Zipp 808 wheels, ideal for long-distance triathlon racing due to the aerodynamic advantage that they offer. This effort can be gauged through the Quarq AXS Spider power meter, allowing the rider to pace themselves correctly for both races and training rides.
The SRAM Force AXS 12-speed TT groupset allows the rider to ensure that they have the ideal cadence for the speed that they are going, helping to make the rider even more efficient than previously possible in some cases. This also allows for the use of disc brakes, providing stopping power with improved modulation.
The cockpit of the Cervelo P Series uses the Profile Design Wing 10A base bar coupled with a carbon aero-extension. This set up we installed allowed us to both lower or raise the aero bars 50mm in either direction in the future. So we had a huge 100mm of adjustment available for us for any future direction we wanted.
The other contact point is the saddle, which had a JCOB Type 5 selected during the Retul Frame selection by the rider. Similar, Supacaz SSK bar tape was used to cover the aero bars, providing a comfortable and grippy surface for the rider to better handle the bike from.
To minimise the strain on their back, we installed a 165mm crank to open up their hips and maximise the space to their chest when they are in the aero position. These shorter cranks also help the athlete when they reach the run leg of the race, as they haven't spent the whole ride cramped. This Cervelo P Series is one very quick bike!
Get in Touch to Build Your Own
Send us an enquiry below to let us know what you're looking to build and we'll get in touch to tell you how we can help.