We had a client come in for a refit on his 2007 Giant TT bike, and while chatting he spoke of getting some upgrades, but quickly realised it would be better to get something new. There was only 2 things that were not up for discussion.
The bike had to be very easy to travel with. It had to be able to be packed into a hard case with minimal effort, no hours spent taking complex cockpit's apart, then re-assembling.
His partner had to sign off on the colour. That meant an all black bike was out, so was anything red, white or even blue, light or dark.
So, after some researching and searching, we built this! A 2018 Cervelo P3 Triathlon Superbike.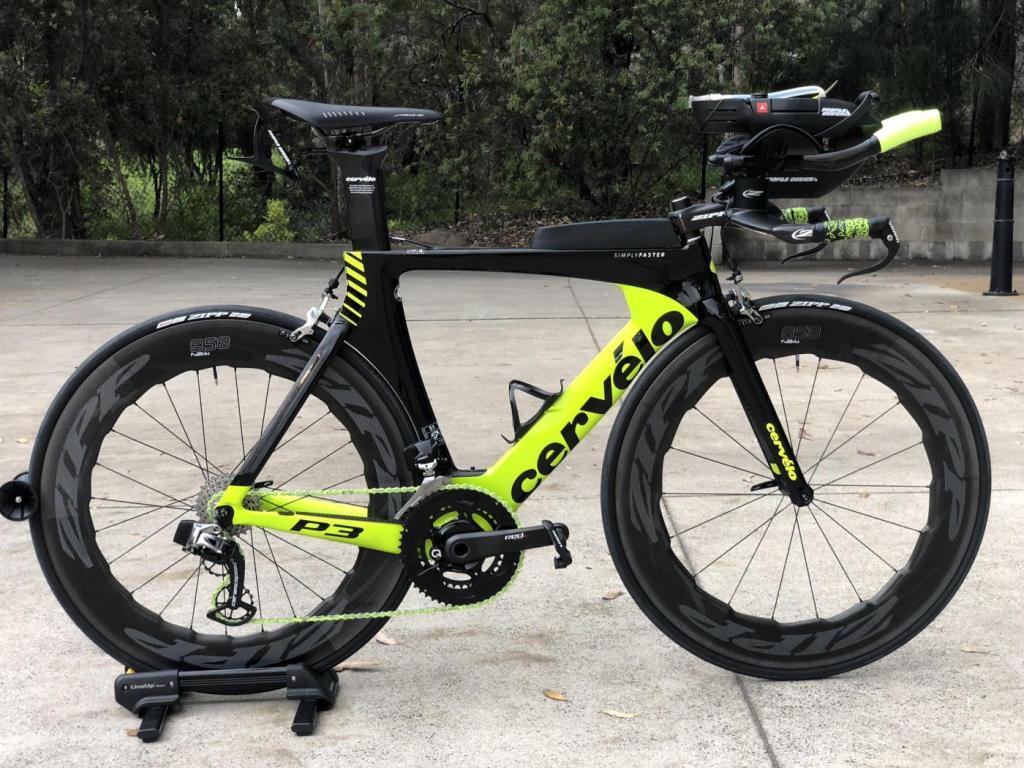 We started with a 2018 Cervelo P3 frameset, which is actually closer to a light green than a yellow and paired it with Zipp's Vuka Bull Full carbon cockpit. The adjustability of the cockpit meant we could set up a very clean front end, stack the pads above the base bar for optimal rider comfort, keeping the base bar low for stable braking and handling in corners while almost slamming the stem. The cockpit is then mated to the frameset with a Zipp Sprint stem.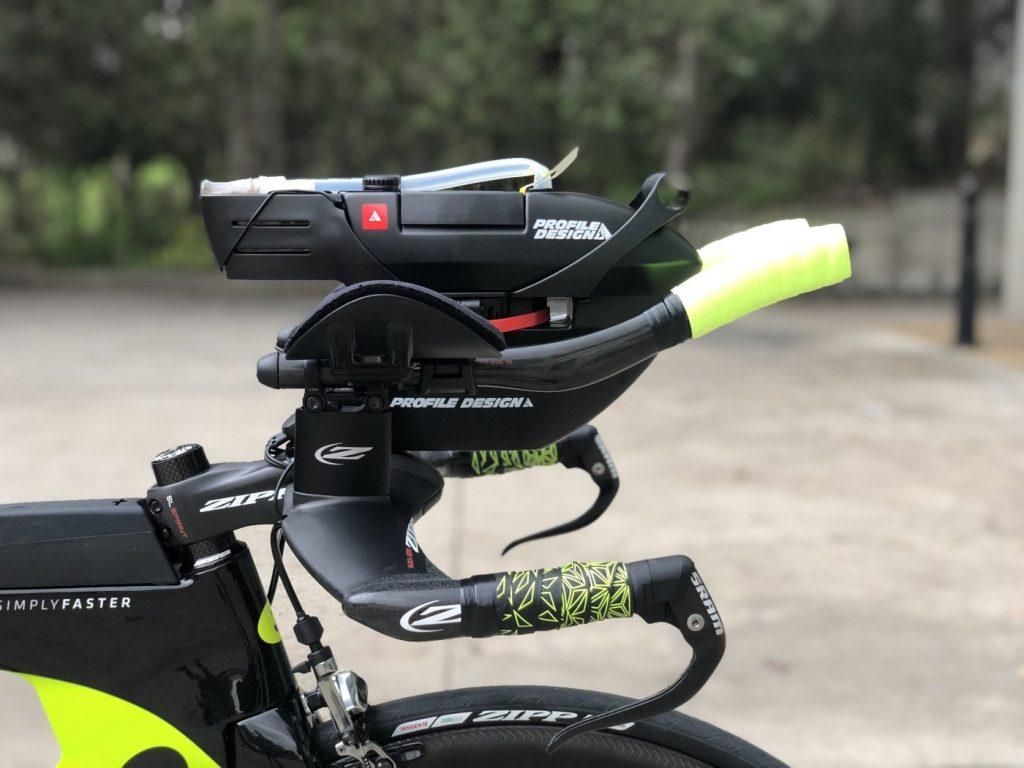 Keeping the front end tidy and practical was the addition of a top tube nutrition box pushed all the way forward, and the HC-35 Profile Design BTA bottle with computer mount and nutrition pouch. This give 1000mL of liquid up front and 2 places to store bars and gels for long course racing.
The groupset chosen to power this rig was none other than the SRAM eTap TT groupset with a few upgrades… We changed out the Blips on the aero extensions for Clics, which sit at the ends of the extensions. To enable smooth pedalling at the Quarq power meter is a Ceramic Speed coated bottom bracket. Keeping the drivetrain quiet and with minimal friction is a Ceramic Speed OSPW (Over Sized Pulley Wheel) system on the rear derailleur and a Wend Waxed SRAM Red chain. Wend Wax Works is a fun company, with lots of colours you can use to personalise your bike while keeping it running smooth and quiet. We chose to add some day-glo yellow to this build.
Getting power to the ground is a beautiful pair of Zipp 858 NSW carbon clincher wheels wrapped in Zipp Course R25 tyres. At only 1,750g for the wheelset, they are light, fast, deep and very stable in cross winds which will come in handy for the Hawaii 70.3 bike course.
On the downtube is a Supacaz carbon bottle cage that matches the frame colours nicely and will hold a spare canister for race day. A Profile Design rear bottle cage and arm replace the standard seat clamp bolt into the seat post and allow for more hydration storage without adding too much drag or looking too crazy.
Contact points are handled by a Fizik Arione saddle, Look Keo Carbon pedals and Supacaz Galaxy Fade bar tape.