As one of only 2 known Mason Custom Titanium frames in the country, we were entrusted to build a disc brake gravel bike with a difference and with a special story as to how it came about.
I'll let Paul talk about it as it's his bike, so here's his story. Enjoy the pics of this beautiful and very unique build.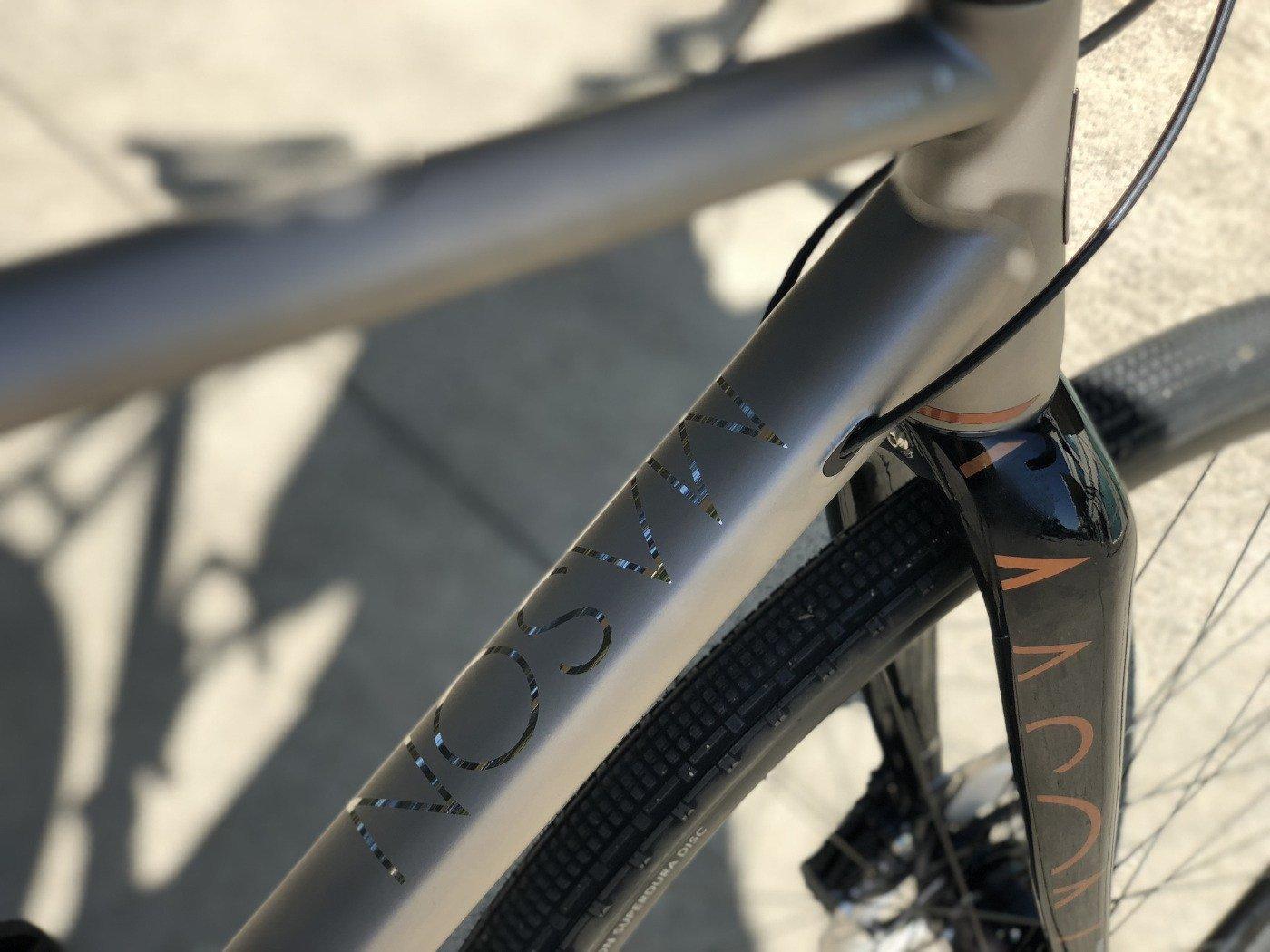 The seed for this bike was planted back in early 2017 when I followed the Indian Pacific Wheel Race, and I had an opportunity to speak with Kristof at the memorial ride for Mike Hall in the CBD. The thought of doing self supported crazy long rides appealed to me, and the equipment that all the riders used had a wide variety, but most of the bikes had some common themes. That was clearance for massive tyres, Dyno lights, plenty of places to attach things etc. So, I started looking around at what sorts of bikes were out there. I looked at the Curve Bikes, I looked at Lynskey (since I already one Lynskey I was familiar with them), and I had a look at what offerings there were in Carbon and Steel.
In mid-2017 I inherited a small amount of money from my Grandmother in the U.K., and I was trying to figure out what to do with it. I could put it on the mortgage, but I didn't want it to just vanish, and I didn't want to have it just end up cash to pay some bills, so I put the money aside and decided that if I was going to look into the whole "Adventure Bike" thing, I would make it a U.K. Frameset, and use that money to offset the cost.
I specced out what I wanted, which was mostly a bike that could conquer pretty much any terrain, would run with a Dynamo Hub for powering lights and USB charging, and could take massive tyres. I started with Groupsets and wheels, selecting the new Ultra R8020 Hydraulic Discs. Since this bike is designed for Ultra-Endurance, I didn't want Di2 and chose to stick with Mechanical, and for wheels I was going to build my own based around a SON or Shutter Precision Dyno Hub. It was around about then that I decided I was going to make this another Titanium bike, as my Lynskey has given me years of commuting in all sorts of muck. I did look at the Lynskey offerings, but it didn't meet the U.K. requirement.
So, first stop was Enigma Bikes, and I did a heap of research into that while I was recovering from my original DVT and had some time off work. So, I started the ball rolling on an Enigma Escape, and visited the local dealer for a long chat. I specced out everything I wanted, and the dealer promised to get back to me with some pricing and options. Fast forward a couple of weeks, and I still hadn't heard anything from them, but while looking at the Dyno Hub situation, I found Hunt Wheels. Ironically, that was because the Enigma Escape came with some Hunt Gravel Disc Wheels. I hopped over the Hunt Wheels website and was looking at the various setups, and right there on the page for the Dyno Wheels was some pics of this gorgeous bike, a Mason Bokeh. I noticed that Hunt had a couple of wheel sets they had done as a collaboration with Mason,  so I started looking at these Mason bikes, as until then I had never heard of them!
Over on the Mason site, I found that they did Steel and All frames (still gorgeous, but not what I was looking for). By chance, Hunt Wheels then sent me a newsletter where they talked about a Titanium version of the Bokeh, and a few people had just started getting them. I contacted Mason to get the info, and found that the first 10 frames had just been delivered, and they taking pre-orders for the next 25 frames now.
We went back and forth with Paul, Mason and the data we had collected from his bike fit to make sure the bike would be the perfect sizing. It was nice to work with Mason to ensure the build would be super clean.
Anyway, since I still had nothing back from Enigma, and Mason was very responsive, I went back and forth with the sizing, then put in my order…and then the wait began. While I waited, I started assembling all the build kit. It helped being able to accumulate all the bits over a number of months.
I was going to build the bike myself, but having never worked with Hydraulics or internal cable routing, I decided to just leave it to the Pros 🙂
The final parts were the 3T Carbon gravel handlebars with a massive 45-degree flare in the drops for gravel grinding and a matching stem to complement the setup.
The build came up really nice. I have replaced the red headset spacers with black ones to match the rest of the bike, and I just received my package that contains the mudguards and Supernova Dyno Lights. Mason is now doing Dyno lights as a standard option, and they have come up with a new Multi-Port insert to allow internal cable routing of the power lead for the Dyno tail light. I am just waiting on details of when I can get my hands on them!
I'm keen to get out there in the fresh air and onto some quiet dirt and gravel roads. Initially I am going to just do some local rides around the North West. There are a lot of Gravel options available, and when I am fit enough I plan to get back into some longer rides and take on some gravel Audax and gravel events. Part of the desire is to get away from the craziness of some of the busy roads and ride in places where cars don't typically go. The new motto of Mason Cycles is "The #FastFar Bike Company", with many of their bikes being used on events like the TCR. Hopefully one day I will be able to tackle some long rides like that myself!