This post focuses on a Parlee Altum bike build, intended for long rides that form the foundation of Ironman training. There were a few requirements for the build, both based on the type of riding it was being used for and the other bikes the owner has.
The bike primarily needed to be built with an endurance focus, hence a Parlee Altum frame was most suitable. This was determined using the Retul Bike Fit system which provides guidance as to the best options available for the dimensions of the rider.

The bike would also need to feature disc brakes, as a TT bike (
E-117
with disc brakes is the bike the owner uses to race. This meant that a disc wheelset would also be needed, hence the affordable DT Swiss E1800 wheelset was chosen, allowing for an ideal mix of performance and cost. They allow for a 28mm tyre to be run in collaboration with the frame.
The bike was equipped with SRAM Force AXS, providing a platform with a wider gearing range than normal and with intuitive shifting. The Force tier groupset was appropriate as it offers gear ratios comparable to those traditionally found on road bikes without blowing the budget.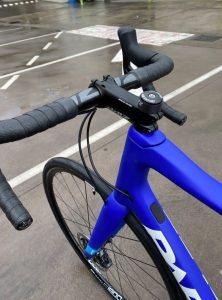 The Parlee Altum disc brake frame can accommodate tyres up to a 28mm tyre, so we put a pair of Schwalbe Pro One on providing optimal grip and reliable wear and puncture protection. Running in a tubeless setup, they allow for lower pressures, higher comfort and better grip.
Zipp SL-70 Ergo handlebars provide a steering platform that's easy to handle and works well for most riders. Paired with a Zipp Service Course SL stem, a key element for ensuring that the build stays within budget. The bike is also equipped with a Quarq AXS power metre, a replacement spider unit that provides reliable data and features MagicZero technology.
The final touches for this bike were the Ergon saddle, Supacaz bar tape and the Shimano SPD-SL pedals. Overall this bike is well equipped, slotting nicely into its role of an aerobic endurance bike, but could easily become a fondo specialist with minor changes.