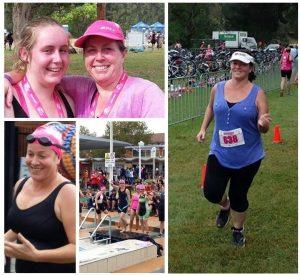 The 1st Ladies Pink triathlon for the season is nearly here, with a variety of distances to choose from.
These are great events for ladies and girls to do their 1st triathlon, which includes a pool swim rather than open water and is in a controlled environment with no traffic.
The events are for women and girls only and have a great fun atmosphere.
The shortest event includes a 100m swim, 3km bike and a 1km run, the longest 600m swim, 18km bike and a 6km run.
Basically anyone can compete and finish a triathlon with some training and a sense of adventure!  Or get a group of friends and enter as a team.
Join a Triathlon Training squad and train with like-minded people, or a swim squad to get some swimming in and some tips on your swim technique.  If you are newer to swimming enrol in a freestyle stroke correction clinic to improve your swimming and to swim more efficiently.
Training with a group whether it be at an indoor Power Cycle studio which is time efficient and safe or at a Running session always helps you to train.  Also, technical feedback and support from a Triathlon coach, whether it be face to face or online (via videos of your technique) will help you become a more efficient athlete and make training and racing easier, reduce the risk of injury and you will enjoy it more!
You don't need to have all of the gear or fancy gear to do a triathlon, the basic items you need include
Swim goggles – swim caps are provided
Swimsuit or tri suit or something you feel comfortable swimming in
Bike ! it can be any type of bike as long as it works!
Drink bottle for you bike
Helmet
Running Shoes
Sunscreen
Additionally optional items you may consider include
Sunglasses
Cap or visor to run-in
Cycling shoes
So if you have been thinking of doing a triathlon and taking on the challenge the Pink Triathlon series is the perfect introduction as a beginner in Triathlons.
For further information on Onebody's Online triathlon coaching and the Onebody Triathlon Training Squad please email info@onebody.com.au or contact our training studio on +61 2 8677 5605