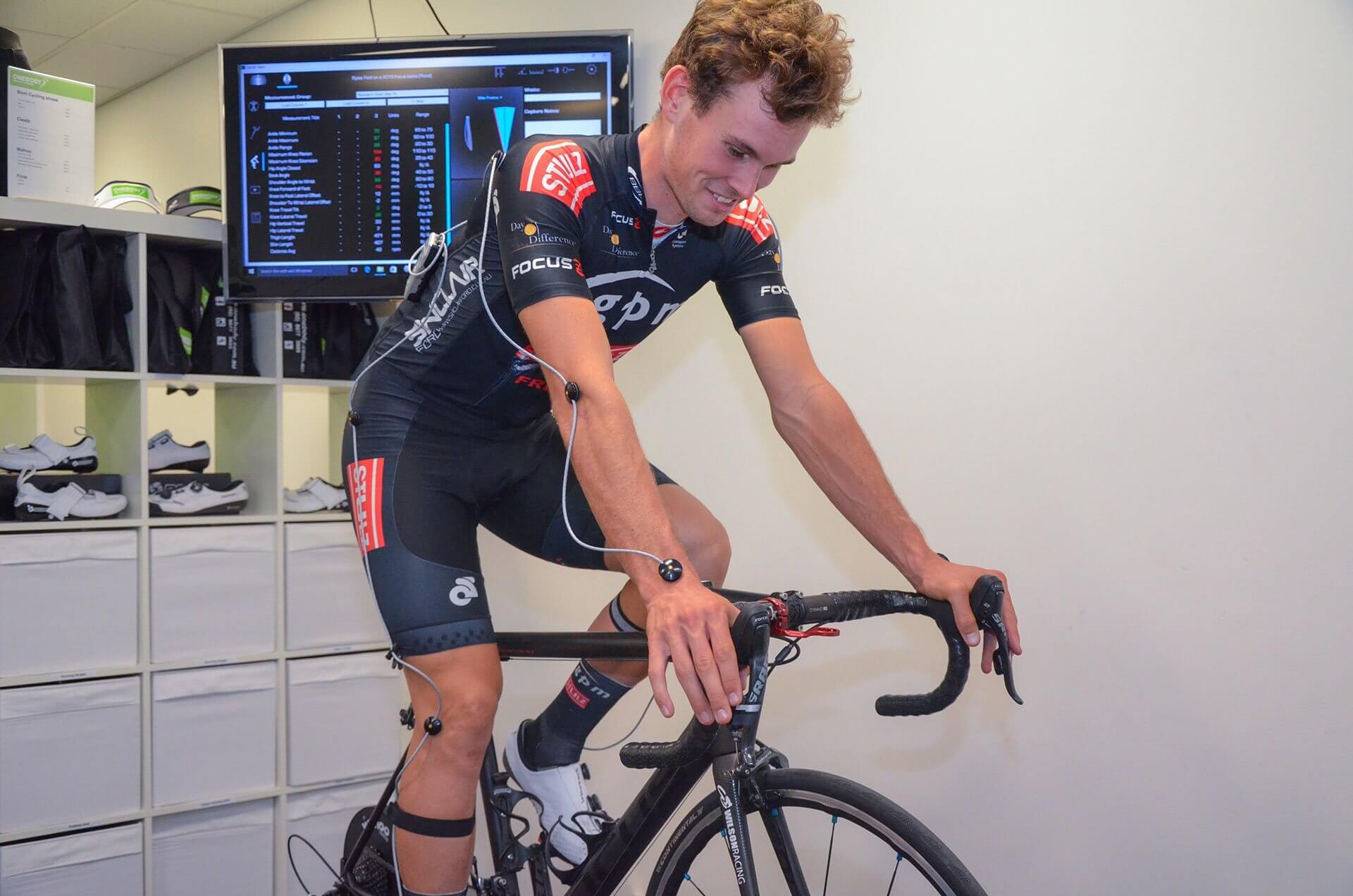 There's a lot of information out there to unpack about Professional Bike Fitting. We're here to help you as much as we can along the way! If you'd like to speak to any of the team at Onebody, we'd love to talk to you and help you out, feel free to call us directly on
+61 2 8677 5605
or you can
click here to use our Contact Form
. Onebody Health and Fitness provides the most comprehensive
bike fitting service
in Sydney, and we're proud of it. Our regular clients trust us to adjust their bikes every day. And every day we are working with people from beginner road cyclists, triathletes and all the way through to elite and professionals. Regardless of the level of cycling experience or ability, the main reason people see us is that they are uncomfortable or struggling with injuries related to their bike fit position. We, as professional bike fitters, identify the contributing factors and then help you adapt your bike position to resolve them as best we can.
So, what do we cover during a professional bike fit in our Sydney Studio?
It all starts with a full musculoskeletal screening to identify your range of motion. We then determine any weaknesses, imbalances or injuries that may affect your bike position.
Bike Fit Data Collection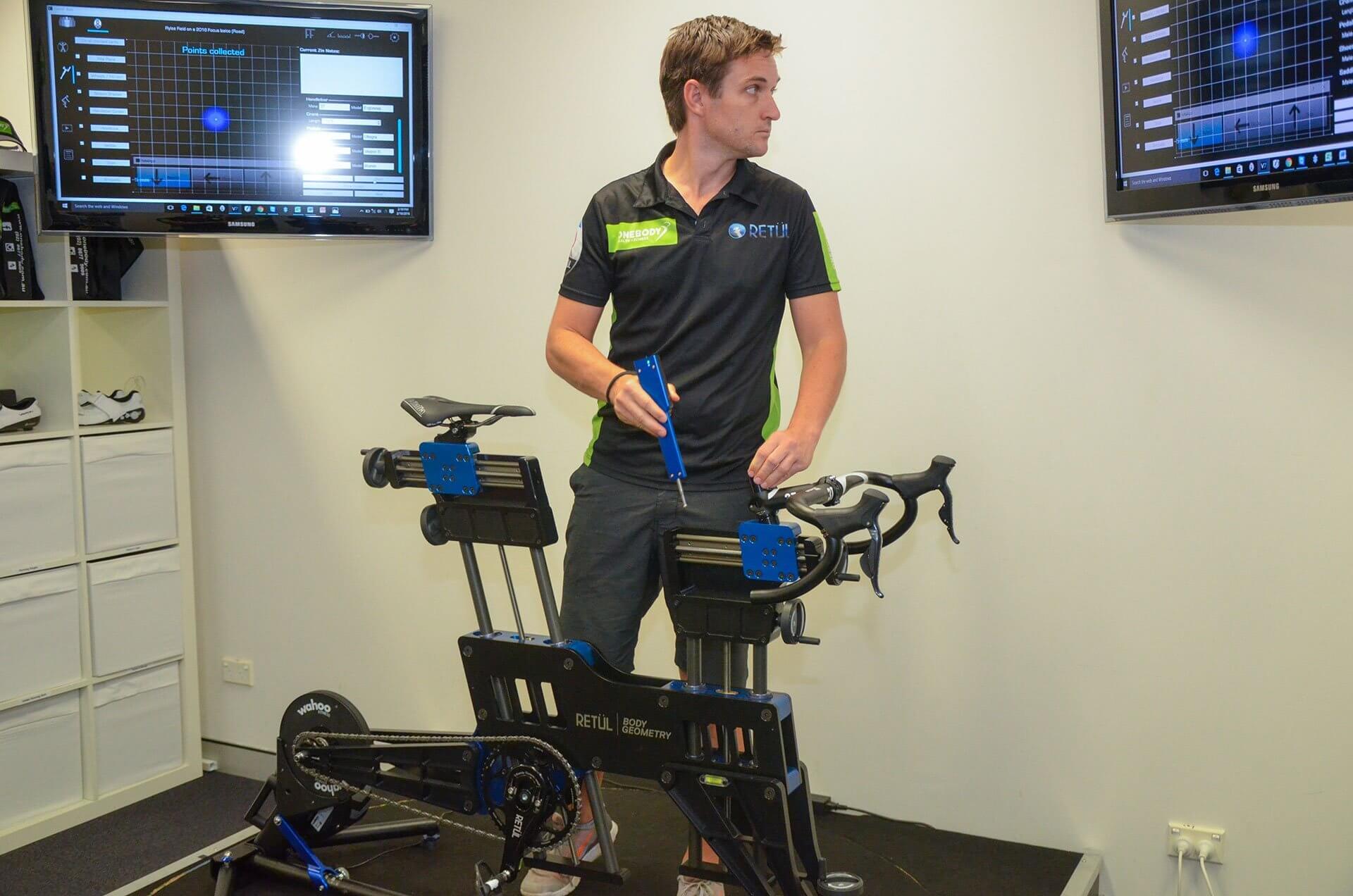 All good bike fits start with data collection of the existing position. This is critical in determining what may be contributing to any discomforts and injuries that you currently experience on a bike. It also serves as a starting point to demonstrate what adjustments we would like to make and why.
Feet
Your cycling shoes and cleats are our first adjustment before we make any other changes on the bike. Depending on the client's needs and observations, your adjustments around your feet may include
Cleat adjustments
Changing cleat systems to cleats that are more appropriate for the riders needs.
Moulding cycling insoles to improve foot support and reduce localised pressure issues
Changing shoes to more appropriate models such as Bont which are heat mouldable
Saddles
During the bike fit, we will not only work with you to you select the best saddle but also the correct position for that saddle – to ensure that your backside is correctly aligned and comfortable. We will make sure that your spine and pelvis are correctly aligned to reduce strain on
all
areas of the body. We have over 50 different saddle models across various brands to ensure that we help you pick the right saddle for you. Taking into account – size, weight, riding experience, sit bone width and pelvis orientation. During the process of saddle selection, we may trial many variants during your bike fit, while also collecting biomechanical data to ensure that it is positioned correctly. Once we choose the right saddle and we position it correctly, the functional component of your professional bike fit is nearly completed.  It's now time to move on to the hands as the next contact point.
Stems
Selecting the right stem length is largely a function of rider comfort. Once we have optimised the saddle and shoes, we will install an adjustable bike fitting stem onto your existing drop bars so we can move it during the bike fit. You will feel what the various stem lengths and angles will feel like. We can then select a stem based on your feedback, taking into account our professional opinion.
Brake Hoods
Finally, brake hoods can be moved independently of the drop bars to suit rider comfort. There is also adjustment in most brake levers that will allow you to move where the brake lever sits. We find that adjusting these two final components can really improve rider comfort and confidence in their handling ability.
Final Data Collections
Our professional bike fits always finish with a final round of data collection to ensure that everything is optimised to the satisfaction of our riders. We record all biomechanical data and bike measurements to the nearest millimetre. Ultimately, this will enable us to p[rovide both the client and our professional bike fitter, everything they need for future bike fits as well as assist in future
bike choices
.
In Summary
As professional bike fitters,
we offer a guarantee
that your bike fit is comfortable and you are happy with your new bike fit position. We provide feedback and support via phone and will bring you back in, free of charge, to make any updates that are needed.