This Cervelo P-Series had to be fast for Ironman Triathlons and help our client get that one step closer to qualifying for the Ironman World Championships in Kona, Hawaii.  They wanted the fastest bike that had no real compromise in speed while not creating an endless budget.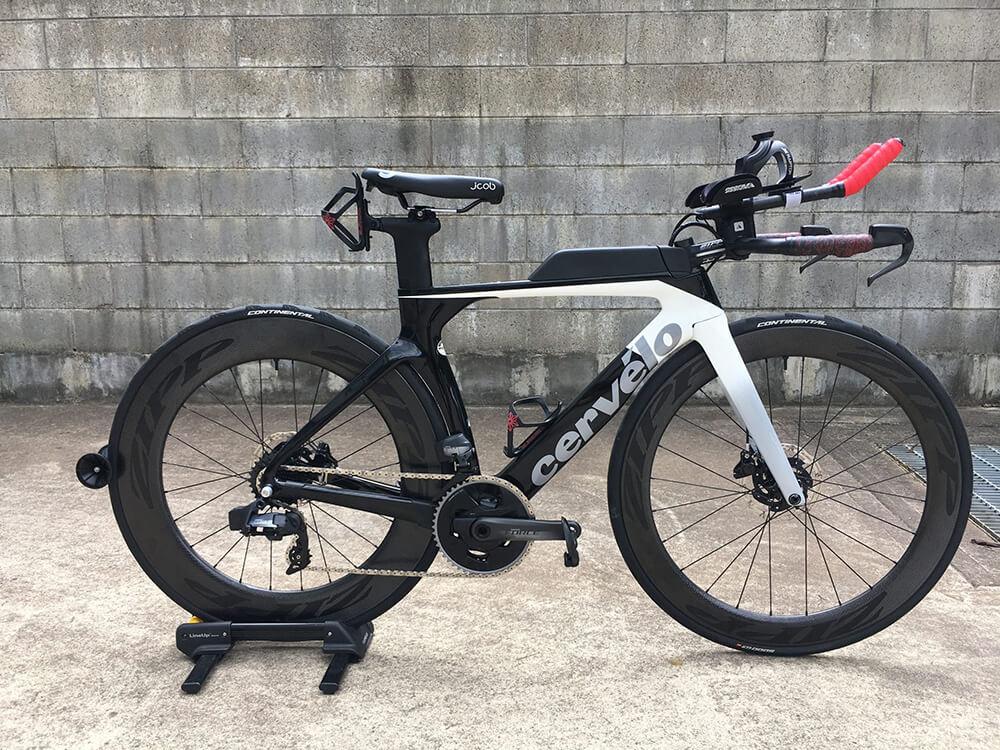 What we suggested was the best performance vs value bike – amazing frame, amazing wheels, electronic groupset and a power meter. The area we compromised to bring down the cost of the bike was the aero bars. By using an aluminium base bar with carbon extensions, we were able to reduce the cost of the bike down far enough to fit a power meter into the budget. We thought this would provide the best performing bike without blowing the budget. 
A Zipp 808 rear wheel and a 404 front wheel provide the optimal aerodynamic benefit for the rider, given her height, as an 808 front wheel increase the risk of crosswinds being a problem. This is especially important at the Ironman World Championship, where crosswinds are often a major factor.
The use of the SRAM Force 12-speed groupset means that there is a gear for every speed, an important factor for a 180km bike ride, as the ability to vary cadence can help the rider during periods of fatigue. A Quarq power meter was fitted to the chainrings, helping the rider pace themselves better, by displaying the workload on their head unit.
This triathlete needed maximum comfort and performance for her 180km Ironman bike legs so we installed a 165mm crank arm for her. This was the best way to accommodate her height and maximise the space between her knees and her chest over the Ironman distance. By reducing the strain at the top of the pedal stroke, we should reduce the load on her spine and help her run more effectively off the bike. 
The JCOB type 5 was found to be the ideal saddle for the rider during the frame selection. For fluid storage, the integrated bottle mount on the seatpost and the XLab Torpedo Kompact 500 Hydration System allow the rider to fuel between aid stations. The Xlab bottle mount also has an integrated computer mount, giving a clear view of the rider's data.
Get in Touch to Build Your Own
Send us an enquiry below to let us know what you're looking to build and we'll get in touch to tell you how we can help.